DOGHOUSE
A pet shop like no other, where you can eat drink, shop and immerse yourself in everything dog.
We are open seven days a week with our lovely team members on hand to offer help and advice and a darn good cup of coffe.
DOGHOUSE can be found in Lamb Yard in the centre of Bradford on Avon
Mr Salvats Coffee Room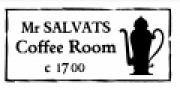 Recreated in a seventeenth century period town house, with an open fire and a secluded garden. Served by staff in period clothes.
01225 867474

44 St Margarets St, Bradford-on-Avon BA15 1DE

Piha
Womans and mens clothes and accessories shop in the heart of Bradford on Avon. Our style is casual to smart casual with beautiful colours and styles. At the heart of our clothing we try to source products that are good to the environment and fairtrade.
We are open from 10-5ish.
Lamb Yard, Kingston Rd, Bradford-on-Avon BA15 1FG

Ex Libris
New and second-hand books. Rapid ordering service. Out-of-print books sourced.4,000 second-hand books. Naxos CDs, book tokens. Cards.
1 The Shambles, Bradford-on-Avon BA15 1JS
01225 863595
Bradford on Avon Town Council

The town has many fine examples of architecture from the Saxon, Medieval, Tudor, Georgian and Industrial Revolution periods.
We were voted Wiltshire Town of the Year by Wiltshire Life magazine.

Womens' One Hundred
A group set up in 2018 to recognise and celebrate 100 years of women's suffrage in the UK, and to promote women's issues, both locally and internationally, through a diverse range of events, both educational and fun.

Further information:
www.facebook.com/BoA-Womens-100
Orton Jewellery

Goldsmiths designing and making jewellery using the finest precious metals and gemstones.
See a large collection of Silver and Gold Jewellery in our beautiful showroom in Bradford on Avon. Stockists for Bering Watches, Junkers and Zeppelin.
Repairs are all completed in-house and a Valuation service is also offered.

Bradford on Avon and Sully-sur-Loire Twinning

We exist to promote and foster friendship and understanding between the two towns, with visits on alternating years to each town and social events throughout the year.
Twinning is great fun and we warmly welcome new members.
Contact us via the website
or phone 01225-863647.
http:/bradfordonavonfrenchtwinning.weebly.com